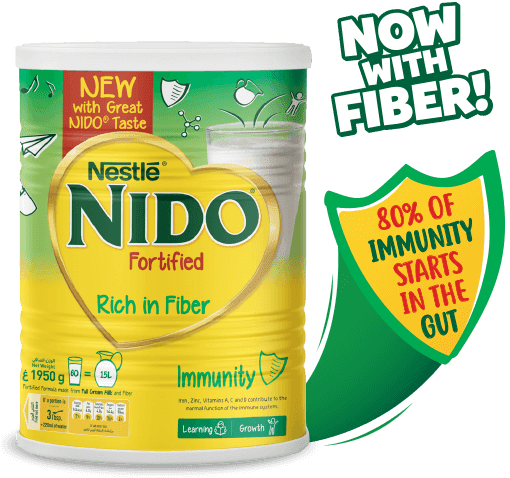 LOOKING TO BOOST YOUR CHILD'S IMMUNITY?

NIDO Fortified Rich in Fiber to bring a more wholesome glass of milk to the table!
Fortified with key essential vitamins and minerals, such as Iron, Zinc, and Vitamins A and D, to support good immunity and maintain proper growth and development.
THE RECOMMENDED 2CUPS OF NIDO A DAY
PROVIDE CHILDREN WITH: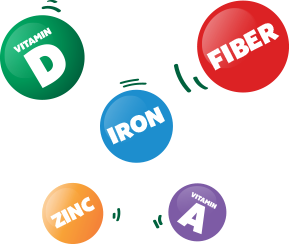 84% Zinc: supports immunity and cognitive development.
66% Iron: aids mental development, and reduces tiredness and fatigue.
34% Fiber: more than a third of their daily needs to support gut health.
60% Vitamin D: one of the highest deficiencies in the region. Supports healthy bones and teeth, and helps boost immunity.
76% Vitamin A: supports good vision and immunity.
WHY FIBER

Fiber, a non-digestible form of carbohydrates, is needed for:
Supporting gut health
Regulating bowel movement
Binding with certain nutrients to help carry them in the body
Supporting weight management
Better regulating blood sugar
INGREDIENTS
Full Cream Cow's Milk Powder, Whey Powder, Corn fiber, Vitamins (A, D, C, B9), Minerals (Iron, Zinc), Emulsifier from Plant Origin (Soya Lecithin) Contains milk and soya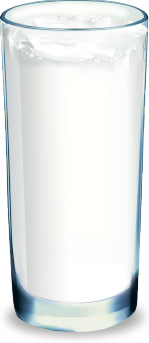 250 mL
HOW TO PREPARE
3
Tablespoons of Nido® (32.5g)
220 mL of warm or cold previously boiled water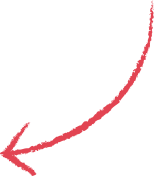 DID YOU KNOW
Kids in the Middle East do not even consume 2 of the 3 recommended servings of dairy a day?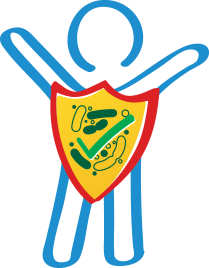 With milk still playing a crucial role in the dairy food group and overall diet to support the health and well-being of children, what better way to solve this than adding the goodness of fiber to NIDO and getting the best of both worlds?!